Targeted nutrition support in COVID-19: Armed with vitamin C
Dicken Weatherby, N.D. and Beth Ellen DiLuglio, MS, RDN, LDN
Remember, humans can't produce vitamin C on demand the way most other mammals can. We must obtain it from the diet or supplementation to meet the increasing needs that occur during viral infection.
The ODX COVID-19 Series
COVID-19: Long-term risk reduction - Naturopathic, functional medicine, and nutrition-based approaches to prevention
Targeted nutrition support in COVID-19: Armed with vitamin C
---
Vitamin C and antioxidant supplementation
[i]
Prevention: 2000 mg/day oral vitamin C, ideally split into 2-4 doses per day
Acute treatment of sepsis, ARDS 10,000 mg/day intravenously
IV vitamin C 50 mg/kg every 6 hours for 4 days, extended as needed
Adequate hydration before and after treatment can help reduce or prevent potential side effect of high dose therapy which include dry mouth, dizziness, nausea, perspiration, and weakness.
Additional antioxidant supplementation with tocopherols, alpha-lipoic acid, N-acetylcysteine, glutathione, L-carnitine [if TMAO not elevated], coenzyme Q10, zinc, and selenium compounds.
Several ongoing clinical trials are in place to closely the examine the efficacy of micronutrient supplementation in the prophylaxis and treatment of COVID-19
Supplemental vitamin C has been found to reduce incidence of pneumonia, reduce ICU length of stay and duration of mechanical ventilation, reduce IL-6, and may be effective at modulating the cytokine storm associated with COVID-19.[ii]
Vitamin C has promising potential in the fight against COVID-19 as it:
[iii]
Prevents an increase of IL-6 and other cytokines in inflammatory conditions
May inhibit neutrophils from creating neutrophil extracellular traps that contribute to organ damage and mortality
May positively affect thrombosis
Randomized placebo-controlled research demonstrated that even lower doses of 500 mg twice daily reduced IL-6 and CRP in in patients with diabetes and/or hypertension.
Higher doses appear to be needed for COVID-19, especially for ARDS in those patients, and several clinical trials are underway including the use of 6-12 grams of vitamin C per day.
Researchers suggest that increased oral doses may be given as bowel tolerance will increase with severity of disease. Some patients may tolerate up to 200 grams per day.
Interestingly high-dose vitamin C has been tolerated in chemotherapy patients at doses of up to 1.5 g/kg administered up to 1 g/min.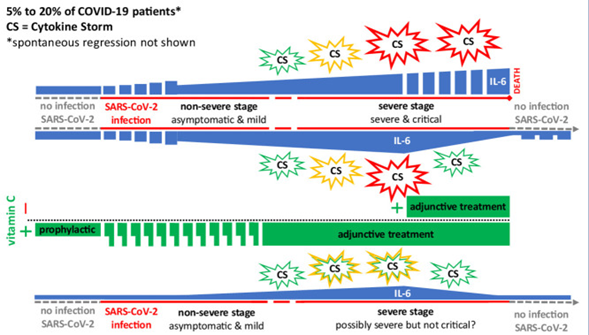 Source: Feyaerts, Adam F, and Walter Luyten. "Vitamin C as prophylaxis and adjunctive medical treatment for COVID-19?." Nutrition (Burbank, Los Angeles County, Calif.) vol. 79-80 (2020): 110948. doi:10.1016/j.nut.2020.110948
Researchers suggest that high dose vitamin C (typically up to16 grams per day intravenously) can: [iv]
Favorably impact patients with viral pneumonia and ARDS in severe SARS-CoV-2 infection by decreasing inflammation and pathogen infectiveness and virulence
Optimize immune defense
Reduce tissue and organ injury
Improve overall outcome of the disease.
Dramatically reduce the need for treatment with high doses of corticosteroids, antibacterials and antiviral drugs.
Can be effective for primary prevention of viral infections by boosting the innate immune response.
In infected patients, vitamin C therapy may shorten the disease course and prevent complications of the disease.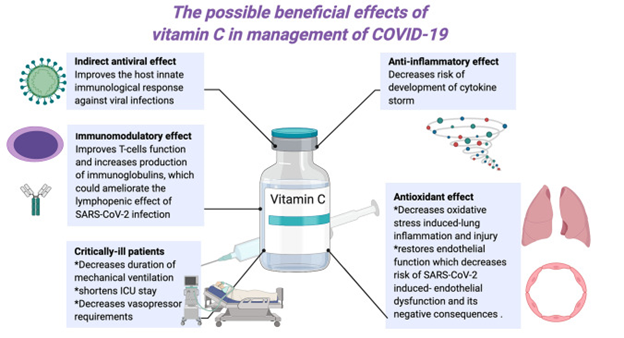 Source: Abobaker, Anis et al. "Overview of the possible role of vitamin C in management of COVID-19." Pharmacological reports : PR vol. 72,6 (2020): 1517-1528. doi:10.1007/s43440-020-00176-1 This article is made available via the PMC Open Access Subset for unrestricted research re-use and secondary analysis in any form or by any means with acknowledgement of the original source. These permissions are granted for the duration of the World Health Organization (WHO) declaration of COVID-19 as a global pandemic.
Vitamin C's role in the immune system makes it a perfect adjuvant for COVID-19 therapy and prevention. It's important to remember that when vitamin C needs are increased, intake must be increased as well.
Research
[i] Hoang, Ba X et al. "Possible application of high-dose vitamin C in the prevention and therapy of coronavirus infection." Journal of global antimicrobial resistance vol. 23 (2020): 256-262. doi:10.1016/j.jgar.2020.09.025
[ii] Souza, Ana Carolina Remondi, et al. "Zinc, Vitamin D and Vitamin C: Perspectives for COVID-19 With a Focus on Physical Tissue Barrier Integrity." Frontiers in Nutrition 7 (2020): 295.
[iii] Feyaerts, Adam F, and Walter Luyten. "Vitamin C as prophylaxis and adjunctive medical treatment for COVID-19?." Nutrition (Burbank, Los Angeles County, Calif.) vol. 79-80 (2020): 110948. doi:10.1016/j.nut.2020.110948
[iv] Hoang, Ba X et al. "Possible application of high-dose vitamin C in the prevention and therapy of coronavirus infection." Journal of global antimicrobial resistance vol. 23 (2020): 256-262. doi:10.1016/j.jgar.2020.09.025